Multifunctional battery lets you take a power charge while travelling. This appliance is equipped with a universal USB charging port and a powerful 1500mAh Lithium internal battery that stores solar energy when you are away from conventional power outlets. Charge it through solar energy, via the USB port or a conventional outlet to replenish some energy to your device! The power LED indicator on the back lets you know the level of current load and when the system is at full capacity, or the amount of charge left.
Check for output AC 120 – 240V
Check for AC output: 120 – 240V
Check the USB port: DC5V ± 5%
USB output with backup battery: DC5V ± 5%, 600mA
Battery: Lithium rechargeable 1500mAh
AC and USB Charging time: 3-5 hours
Solar charging: 6 hours to a maximum load of 50%, 120mA direct sunlight
Dimensions: 11.94 cm (L) x 6.6 cm (L) x 1.27cm (A)
Weight: 112 grams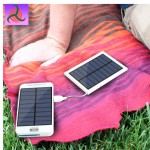 Benefits:
Smart, compact, lightweight design – The internal battery is ultra-light is easily to store energy, carrying and supplying power to all your devices that have USB charging port (Micro / Mini).
LED illuminate flexible to use when you are in the dark
Double Solar panel that allows twice the clean energy, and charges twice as fast to enable it to charge 100% your device using sunlight only!
It is perfect to recharge your digital camera or pocket camcorder, after a long day of shooting and recording, and keep your cell phone charged.