This device uses a high efficiency solar panel, with a 300mA charge rate in direct sunlight, which allows it to absorb enough power to charge most phones after only 4-6 hrs!
Leave the product in direct sun light for 13 hours to fully charge your turbo 4000mAh battery.
The emergency Lithium-polymer battery can be stored (saved) for weeks without loss of power or performance, so you will have access to power when you need it! Remember to use the USB charging cable to power your device.
Check the USB port: DC5V ± 5% 500mA- 1.000mA
Check the USB port: DC5V ± 5% 500mA- 1.000mA
USB output with backup battery: DC5V ± 5%, 2.1a
Battery: 4000mAh rechargeable lithium
USB Charging time: 4-6 hours
13 hours in direct sunlight for a rate of 100%, the solar charging 300mA
Time LED flashlight: 36 hours on a full charge
Dimensions: 17cm x 2.3cm x 9,15cm
Weight: 250 grams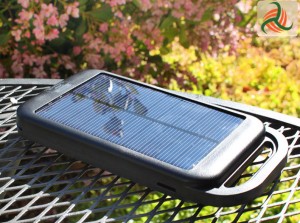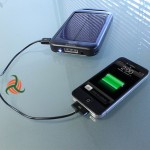 Benefits:
Rechargeable via USB cable – Quick charge it in 4-6 hours by USB for fast charge.
4 LED indicators – illustrating the charge level to check the power status with a touch of a button.
Durable structure and resistant – Made from eco-friendly material high strength, ABS plastic and aluminum rear shell with a bright finish.