Latest Technology. Low Prices. Shipping Globally. Backed by a 30 Year British Warranty & Support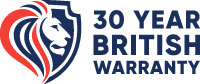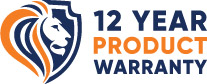 Our PV panels focus on quality. With a 10 year warranty, a 12 year guarantee to produce 90% of nominal power, and a 30 year guarantee to produce 80% of nominal power our products offers unrivaled assurance in an unsure world. Our modules can handle the toughest demands with regard to stability and corrosion resistance. This is due to their engineered hollow-section frame and 3,2 mm (0,13 in) special solar glass. We also use high-quality EVA foil, which is ideal for embedding solar cells, while the weatherproof foil on the back of the modules protects against humidity.
Product Benefits
Monocrystalline cell technology with an electrical efficiency of up to 17.83%

Allowable tolerances of up to +5 watts guarantee maximum power without compromise.

The  12 and 30-year product warranties.

Certifications according to the most rigorous and international standards guarantee maximum quality

High-quality EVA foil allows ideal embedding of the solar cells, while the weatherproof foil on the back of the modules protects against humidity.

Meets maximum demands with regard to stability and corrosion resistance.

It is a clean source of power!


5 REASONS TO BUY UKSOL SOLAR PV PANELS
THERE ARE MANY SOLAR PANELS ON THE MARKET. WHY CHOOSE UKSOL?
  WE ONLY USE HIGH QUALITY MATERIALS AND GRADE "A" CELLS.
UKSOL only uses high quality materials and grade "A" cells in our manufacturing process. We do not use "B" or "C" grade cells which are often used with low priced panels. Our panels are also independently tested by leading inspection, verification, testing and certification organisations such as TUV, SGS and Intertek.
  WE HAVE THE LONGEST WARRANTIES ON THE MARKET.
UKSOL solar PV panels come with a 12 year product warranty and a 30 year performance warranty. Within the first 10 years we expect the output of our panel to be at least 90% of what it produced on the first day it was installed. At 30 years we expect the panel to be producing at least 80% of what it did on day one. Warranties need to be supported by the manufacturer for a long time. Buying the cheapest panel on the market may not be the best way to ensure the long term returns from your investment, as the manufacturer may no longer be around or may be unwilling to help you.
 BRITISH WARRANTY.
UKSOL Ltd is a British company run from the UK by people with many years' experience in the solar PV industry. Our headquarters are based near London. Any issues with our panels are quickly and easily resolved by our British customer services team. We believe in looking after our customers for the long term. Buying from UKSOL gives peace of mind that there is someone to talk to if you need support in the future.
  UKSOL PANELS ARE ONLY SOLD THROUGH APPROVED LOCAL INSTALLERS & DEALERS.
We only sell UKSOL solar panels through our approved global chain of local distributors and fully qualified solar PV installers. Many manufacturers look to sell their panels through anyone and everyone solely to generate volume. As a long term company, we believe that by selling only through approved local dealers and installers will ensure that end-users have the local service and support they need to help look their solar system for the 30 year life span of the UKSOL panel. 
 COMPETITIVE PRICES.
As well as priding ourselves on our high quality and our rock solid British warranty, we also want to ensure that our panels are affordable to all. You should find our prices a pleasant surprise because we want to make solar PV electricity the cheapest form of power on the market.

CERTIFICATION & QUALITY CONTROL
Continuous quality management and performance monitoring are paramount to our long term success. Our certification includes:
TUV

IEC61215, IEC61730, IEC627166, IEC61701, UL1703, CE, MCS, CEC

ISO9001: 2008: Quality management system
ISO14001: 2004: Environmental management system

OHSAS18001: 2007: Occupational health and safety management system

PI Berlin Tested.

INMETRO Tested.